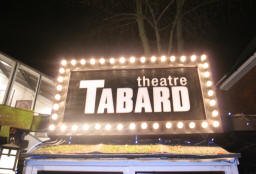 A Christmas Carol - The Musical
December 2013 - January 2014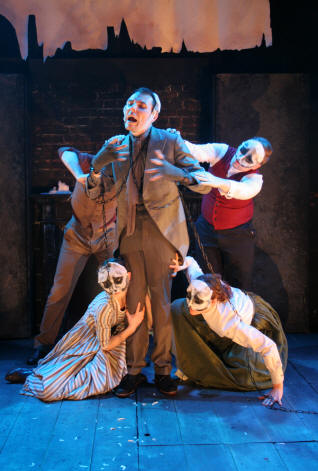 Liza, Liza, Liza -
September 2013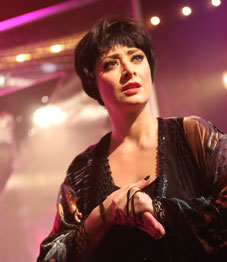 The Mikado -
February 2013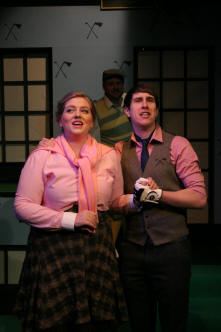 Honk -
December 2012/ January 2013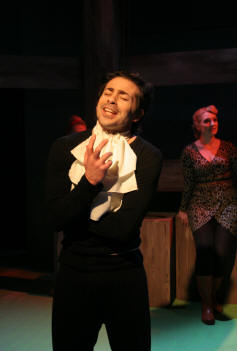 Jumpers -
September 2012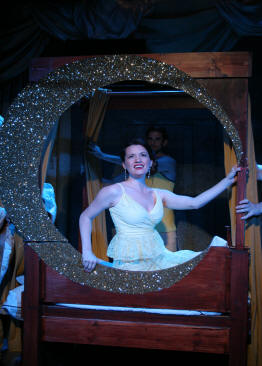 Please Wait Patiently -
August 2012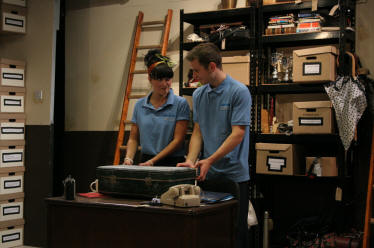 The Pirates of Penzance -
May/June 2012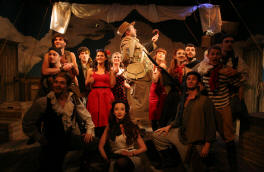 Rodgers and Hammerstein's Cinderella - Dec 2011/Jan 2012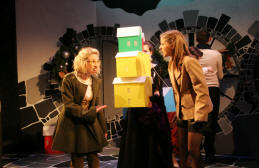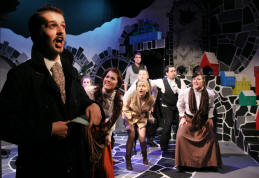 You're A Good Man Charlie Brown - October 2011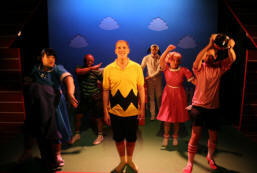 Ruddigore - May/June 2011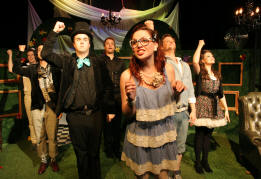 Just So - Dec 2010/Jan 2011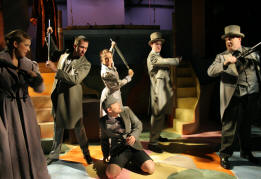 Bent - July/August 2010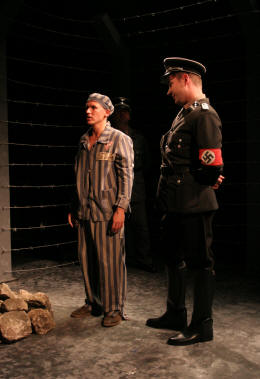 Stiffed - April/May 2010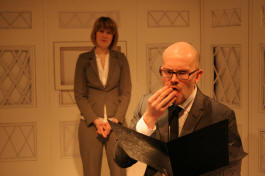 The Famous Five - Dec 09/Jan 2010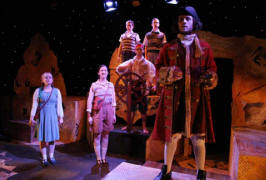 Stig of the Dump - Dec 08/Jan 2009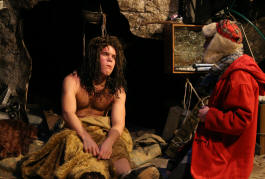 The Country - May/June 2008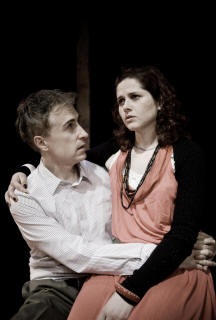 New Boy - April/May 2008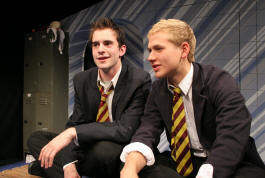 Christmas Carol - Dec/Jan 2007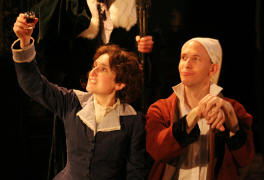 Copenhagen - Nov 2007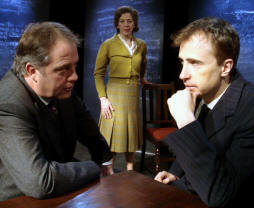 The Tabard Theatre opened in 1985 above the Tabard Pub, a popular and historic local landmark. It quickly built a strong reputation for new writing. However, the theatre now hosts all kinds of live entertainment from classical adaptations to new musical works and contemporary revivals. It enjoys the support of a loyal local audience and, thanks to its location, visitors from all over London. Over the years the Tabard Theatre has played a key role in the development of London Theatre, highly acclaimed for its professional work and extremely popular within the community of West London.
The Tabard Theatre produces in-house shows making it one of the few theatre companies to do so, in a studio, with no central funding. In 2009, we saw New Boy (a co-production at the Tabard Theatre back in April 2008) transfer to the West End, in 2011 we premiered Rodgers and Hammerstein's Cinderella, in 2013 we premiered Alan Menken's A Christmas Carol and in 2014 Richard Harris' premiere of Liza, Liza, Liza embarked on a regional tour.
In recent years, we have developed strong relationships with comedy agents and are regularly used as a venue for comedians such as Al Murray, Russell Howard, Lee Mack, Chris Addison, Frank Skinner and Dara O'Briain. During the day, we are used for photo/film shoots, rehearsals and training.

We also run a thriving intern scheme and hold workshops for young aspiring performers. We also have a growing number of 'Friends and Angels' of the Tabard Theatre who support the theatre financially and enjoy further benefits.

The Tabard Theatre continues to expand its work, to update and renovate the venue and to provide a great theatrical experience.
Previous shows
Click the links on the title for more information

2016
The Last Tycoon
by F Scott Fitzgerald
Broken Strings
by Joe Wenborne
NOMINATED FOR BEST MALE ACTOR AT THE
OFF-WEST END AWARDS
Hanna Sheehy-Skeffington:
Reminiscences of an Irish Suffragette
by Rosalind Scanlon
Sherlock Holmes and The Invisible Thing
by Greg Freeman
'make sure not to miss this wonderful play'
The Upcoming
Wastwater
by Simon Stephens
'skilfully acted and engrossing to watch'
The Stage Review
I Love My Love
by Fay Weldon
A Flea in Her Ear
by Georges Feydeau, adapted by Sacha Bush
'Funny, Funny, Feydeau Farce is a Must See' '
ChiswickW4.com
The Young Visiters
by Daisy Ashford, adapted by Mary Franklin
'Adult laughs… barmy exuberance…. Excellent fun'
The Times

2015
The Drunken City
by Adam Bock
Gigi
by Collete and Anita Loos
Blood Crossed
by Gareth Cadwallader
Sigurd, the Dragon Slayer
by Peter Machen
Proof
by David Auburn
NOMINATED FOR BEST SET AND BEST SUPPORTING ACTRESS FOR OFF WEST END AWARD
'The Tabard is the perfect venue for a play like Proof'
West End Wilma
Simpatico
by Sam Shepard
NOMINATED FOR BEST ACTOR OFF WEST END AWARD
Bruises
by Nadia Cavelle
Shakespeare's R&J
by Joe Carlarco, adapted from Shakespeare's play
NOMINATED FOR TWO OFF WEST END AWARDS
BEST LIGHTING AND BEST DIRECTOR
Bluebird
by Simon Stephens
'a terrific play...a smashing cast, faultlessly directed and we're lucky to have it at The Tabard' ChiswickW4.com
Madame Manet
by Gareth Cadwallader
Blush of Dogs
by Roland Reynolds
'a demented cackle of a play' Timeout - 4 stars
a thought-provoking and extremely relevant piece of theatre, brilliantly staged and performed, and well worth seeing.' LondonTheatre1
Time of My Life
by Alan Ayckbourn
'This production is a delight' LondonTheatre1
Radiance
by Alan Alda
THE UK PREMIERE FROM THE
EMMY AWARD WINNING WRITER
'an expansive and enlighting production' The Stage
Next Door
by Sydney Stevenson


2014
The Lost Happy Endings
by Carol Ann Duffy
Sheltered
by Greg A Smith
NOMINATED FOR BEST NEW PLAY
OFF WEST END AWARDS
'A seriously funny, intense piece of art...
Satirical and darkly brilliant' The Upcoming
Lady Windermere's Fan
by Oscar Wilde
'a twinkly sense of fun'
Evening Standard
Oh the Humanity
by Will Eno
NOMINATED FOR BEST DIRECTOR
OFF WEST END AWARDS
NOMINATED FOR BEST OFF-WEST END PLAY
WHAT'S ON STAGE.COM AWARDS
'a highly unusual work of theatre, amusing, thought-provoking and rewarding'
Public Reviews
Edges
by Benj Pasek and Justin Paul
'Funny, sweet, angsty, it strikes a real chord...the whole four-strong ensemble are in fine voice, belting out the group numbers with infectious energy'
Timeout
Fanny and Faggot
by Jack Thorne
An Ideal Husband
by Oscar Wilde
''a thought-provoking production, very funny in many places thanks to a superbly dry classical wit'
Views from the Gods
Misalliance
by George Bernard Shaw
''one of the funniest and most enjoyable pieces of vintage theatre' Everything Theatre
How to Build a Better Tulip
by Mark Giesser
''a swift-moving and witty script leaving the
audience exhausted with laughter'
The Public Reviews - 5 STARS'
The Boy Who Cried
by Matt Osman
'Fiercely original and sharply funny'
Timeout
Heresy
by Tilo Ulbricht
''a clever, sharply written and fabulously acted work...' ChiswickW4.com
Tristram Shandy, Gentleman
Adapted from the Laurence Sterne Novel by Callum Hale
'A gutsy adaptation, brimming with
bawdy humour and rich satire' Everything Theatre

2013
A Christmas Carol - The Musical
Music by Alan Menken, Lyrics by Lynn Ahrens,
Book by Mike Ockrent and Lynn Ahrens
Based on the novel by Charles Dickens
THE UK PREMIERE OF THE SMASH BROADWAY MUSICAL
'everything you could want from a musical version of A Christmas Carol - innovative, entertaining and packed
full of vibrant melodies' The Stage
Dogstar
by Greg Freeman
'Beautifully and intelligently written it's a dark comedy
that is genuinely funny' The Upcoming
Code of the West
by Mark Giesser
Liza, Liza, Liza
PREMIERE OF A BRAND NEW PLAY
by Richard Harris
'My favourite off-west end show I've seen all year'
A Younger Theatre
NOMINATED FOR TWO OFF-WEST END AWARDS
BEST PRODUCTION AND BEST ENSEMBLE
Toured to Theatre Royal Winchester
and Yvonne Arnaud, Guilford
Rent
Book, Music and Lyrics by Jonathan Larson
Musical Arrangements Steve Skinner
Music Supervision & Additional Arrangements by Tim Weil
The Blind & The Intruder
by Maurice Maeterlinck
'A fascinating collector's item... you can detect the influence on the work of Beckett.'
Michael Billington, The Guardian
The Duke in Darkness
by Patrick Hamilton in the first revival in sixty years
Revised and adapted by Orlando Wells
'thoughtful, nail biting, beautifully-acted, morally urgent thriller' Onestoparts Editors Choice
The Lamplighters
Written and directed by the Bafta-winning Glenn Chandler
'a superior psychological study of the far-reaching effects of a miscarriage of justice' Whatsonstage.com
'it is immensely satisfying to have the calibre of Chandler writing exciting new material for the stage; it deserves a West End outing' Onestoparts Editors Choice
The Mikado
Music by Arthur Sullivan
Libretto by W.S Gilbert
Long may this theatre produce wonderful productions! Miss The Mikado and miss out' Back Stage Pass *****
Good Morning Alamo!
by Mark Giesser
'It isn't just about immigration – its wry dissection of the 'us' and 'them' debate strikes a universal chord' Timeout

2012
Honk
by George Stiles and Anthony Drewe
'Last year it was Cinderella by Rodgers and Hammerstein, this year it is HONK! by Stiles and Drewe. Well it is quite possible that those who go and see this wonderful production may find that they enjoy it even more than they may have enjoyed Cinderella'. Chiswick Herald
Chris Hone's cleverly attractive yet highly functional design draws the audience into the world of the "farmyard" Broadway World
The Supper Party
by Alison Evans
Marguerite
THE PREMIERE OF THE REVISED VERSION
Music by Michel Legrand
New book by Alain Boublil and Guy Unsworth
Lyrics by Herbert Kretzmer
Based upon the original book by Alain Boublil,
Claude-Michel Schönberg and Jonathan Kent
'The real star of the show is the score, by Legrand, Boublil and Kretzmer, which sounded as enchanting at the Tabard as it did at the Haymarket, if not more so; the piece belongs in an intimate space, and this venue creates an atmosphere for it that feels charmingly authentic'
Whatsonstage.com
Jumpers
by Tom Stoppard
THE 40th ANNIVERSARY PRODUCTION
'enjoyable production of Tom Stoppard's surreal satire - a madcap mix of murder mystery and
ethical inquiry' Timeout
Please Wait Patiently
by Natasha Collie, developed by Hot Tubs and Trampolines
'A truly wonderful show' One Stop Arts
'vibrant, engaging tragicomedy' Whatonstage.com
Jubilee
Book by Moss Hart
Music & Lyrics by Cole Porter (1935)
Orchestrated by Larry Moore (1986)
The Pirates of Penzance
by Gilbert and Sullivan
NOMINATED FOR TWO OFF-WEST END AWARDS
BEST PRODUCTION AND BEST ENSEMBLE
The Custard Boys
Based on the novel by John Rae
Adapted and directed by the Bafta-winning Glenn Chandler,
'Chandler's brilliant observation of boys' behaviour... Like a darker, more grown up version of Just William...This production could easily work on a much bigger stage in the West End....' Whatsonstage.com
No Picnic
by Greg Freeman,
(TIME OUT CRITICS CHOICE)
'this masterfully realised black comedy from the mad magician of fringe theatre is unquestionably a feast' Timeout
'Samuel Beckett in fancy dress' ChiswickW4.com
Pitch Perfect
Premiere of a new comedy by Jonathan Guy Lewis,
'whizzed-up gobbledygook is spouted like Biblical truth as the characters rib and taunt one another. It's certainly a good laugh' Timeout
Elastic Bridge
Devised and performed by Strawberry Blonde Curls,
Green Forms
by Alan Bennett,
Starring Janet Ellis and Jan Ravens
A Special week long run in aid of Maggies Cancer Charity
The Rape of Lucrece
by William Shakespeare, performed by Gerard Logan

2011
Rodgers and Hammerstein's Cinderella
Music by Richard Rodgers,
Book and Lyrics by Oscar Hammerstein II
'Bold, slick and bright, this excellent production of Rodgers & Hammerstein's Cinderella has verve, spirit and panache, superb casting, a top sound rig and imagination by the pumpkin-load' What's On Stage.com
'The Tabard Theatre has pulled another winner out of the bag' Backstage Pass
Love Question Mark
by Robert Gillespie
You're A Good Man Charlie Brown
Based on the comic strip Peanuts by Charles Schulz
Book Music and Lyrics by Clark Gesner
Directed by Anthony Drewe
'The direction by Anthony Drewe and choreography by Nick Winston transforms the Tabard stage into a childhood wonderland... Boast that you saw it first at the Tabard' ChiswickW4.com
The Night Porters
by Michael Moreland
Peter Pan
by J.M Barrie
Cymbeline
by William Shakespeare
Ruddigore
by Gilbert and Sullivan
(TIME OUT CRITICS CHOICE)
'This magnetically charming cast breathes new life into a dusty operetta... The company realise the full potential of its topsy-turvy humour, and are quite simply a joy to watch.' Timeout
Extremities
by William Mastrimone
(TIME OUT No1 CRITICS CHOICE)
'A 90 minutes that you won't forget' Surrey Comet
'A Woman Alone
by Dario Fo
The Last Five Years
by Jason Robert Brown
'Lauren Samuels gives a priceless performance
off west-end' 4 STARS, News of the World

2010
Just So
Music by George Stiles, Lyrics by Anthony Drewe
Inspired by the Just So Stories of Rudyard Kipling
NOMINATED FOR 5 OFF-WEST END AWARDS
'A Real Charmer' Mark Shenton, Sunday Express
'Just So has never made it to the West End but hopefully it's on its way after this energetic production at the Tabard Theatre' Spoonfed
Bright Star
by Stuart Hoar
'The Tabard is to be congratulated on securing a work that deserves and doubtless will achieve much wider recognition' Chiswick Times
The Scandalous Case of
Dr Jekyll and Mr Hyde
Adapted for the Stage from Robert Louis Stevenson's Novella by Paul Kemble
Bent
by Martin Sherman
'I paid my first-ever visit to the long-established Tabard Theatre on Turnham Green. I found a rare thing here: a theatre that is not only comfortably equipped with real theatre seating, but also a fully raked auditorium that puts many West End sightlines to shame. And best of all, here's a production of commitment and real talent, too.'
Mark Shenton, The Stage and Sunday Express
The Tempest
by William Shakespeare, envisaged by thefaction
Beak Street
by Greg Freeman - (TIME OUT CRITICS CHOICE)
'A Testament to Freeman's faith in his imagination and ours' Timeout
Stiffed
by John Higginson and Clodagh Hartley
'A Real Tour de Force' The Sun
'A Timely reflection on the scandal surrounding MP's expenses' Evening Standard
Threesome
by Hal Iggulden
'A joyous comedy, Feydeau the master could hardly have done better' Surrey Comet

2009
The Famous Five - A Musical Adventure
adapted from the stories of Enid Blyton
'Forget pantomimes with Pam Anderson, this is the children's Christmas show to see' Fringe Review
'Brilliant and Delightful' Hounslow Guardian
Sherlock Holmes - the last act
By David Stuart Davies... starring Roger Llewellyn
Our Boys
By Jonathan Lewis
'The latest production in this successful Autumn season at the Tabard Theatre is a stunner, there's no other word to describe it' Hounslow Guardian
The Government Inspector
By Nikolai Gogol, adapted by Adrian Mitchell
Twelfth Night
by William Shakespeare, envisaged by thefaction
Doig! The Musical
by Greg Freeman - (TIME OUT No1 CRITICS CHOICE)
'The Tabard has started its Autumn season with a very fine play indeed' Chiswick Times
Wolfboy
by Brad Fraser, adapted into a musical by Russell Labey and Leon Parris
Transferred to the West End's Trafalgar Studios July 2010
Beyond Flesh and Blood
by Jason Charles
La Soupiere
by Robert Lamoureux
LOL
by Rosalind Adler
Macbeth
by William Shakespeare, envisaged by thefaction
Under Control
by Nemo Verne
What the Night is For
by Michael Weller
The Trial of Marie Antoinette
by Peter Langdon
'The Tabard are to be congratulated on arranging its first London showing'
Richmond and Twickenham Times
The Real Thing
by Tom Stoppard
Teaching Gods
by Robert Crighton
2008
Stig of the Dump
by Clive King, adapted for the stage by Richard Williams
'Brought vividly to life in the Tabard's imaginative production... fine festive fare for all the family' The Stage
Sherlock Holmes...the Death and Life
By David Stuart Davies... starring Roger Llewellyn
The Picture of Dorian Gray
Adapted for the stage from Oscar Wilde's novel by Kangaroo Court
Lusting After Pipino's Wife
by Sam Henry Kass
Another Kind of Silence
by Liz Rothschild
Fat Shirley Trailer Park Opera
by Thomas J Brown & David B. Crawford
The Country
by Martin Crimp
Harry Hill Warms Up
New Boy
adapted from William Sutcliffe's Novel by Russell Labey
Transferred to the West End's Trafalgar Studios March 09
Guerilla/Whore
by John Cargill Thompson & Carol Vine
The Lonesome West
by Martin McDonagh (TIME OUT CRITICS CHOICE)
Al Murray's Happy Hour
Lizzy, Darcy and Jane
by Joanna Norland

2007

A Christmas Carol
by Charles Dickens, adapted, music and lyrics
by Susie McKenna and Steven Edis
Copenhagen
by Michael Frayn (TIME OUT CRITICS CHOICE)
Road
by Jim Cartwright
Happy Ever After
by C Company
The Rover
by Aphra Behn
Turning Heads
by Opera on the Run
Exit the King
by Eugene Ionescu
Red Scarf
by Jona Howl
What Andrew Heard
by Jack Grone
One for the Road
by Harold Pinter
The Little Dressmaker
by Linnie Reeman
Leonce and Lena
by Georg Buchner
The Promise
by Aleksei Arbuzov

2006

Huis Clos
by Jean Paul Sartre
One Red Hill
by Abbey Wright
Visiting Hour
by Richard Harris
So This is It...
by Leila Borris
Trapped
by Beverley Foster
Numbers/Embassyland
by Kieron Barry
Land of Opportunity
by Catherine Hopkins
Big Maggie
by John B Keane
Masha and the Bear
by Abbey Wright


The Tabard Theatre has been under the artistic direction of Pulling Focus Ltd since 2005. If you have details of a show at the Tabard Theatre prior to this date, please email info@tabardtheatre.co.uk

Tabard Theatre
2 Bath Road
London
W4 1LW
Enquiries: 0208 995 6035