SLR Productions presents
A FLEA IN HER EAR
by Georges Feydeau
Adapted by Sacha Bush
Directed by Alex Sutton
Designed by Mike Leopold
Original music and sound by Eamonn O'Dwyer
Lighting by Adam King
Starring Jamie Birkett, Dominic Brewer, Haley Catherine,
Rachel Dawson, Clark James and Richard Watkins.

'It's fast, it's furious and very, very funny'
ChiswickW4.com

'can't be beaten for sheer entertainment value'
Stage Review
From the undisputed master of French farce, Georges Feydeau's hysterical comedy of errors plays a limited 4 week run at the Tabard Theatre.
Widely regarded as one of the funniest farces ever written, A Flea in Her Ear teems with suspicious spouses, hotel liaisons, crossed wires and physical comedy galore.
To test her husband's fidelity, Raymonde Chandebise sends a letter from a 'secret' admirer suggesting a romantic rendezvous at the local 'dubious morals' hotel. What follows is a string of outrageously frenzied mixups as mistaken identities spiral out of control.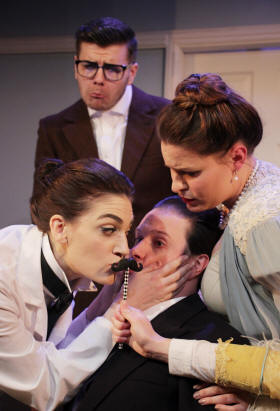 Georges Feydeau was a French playwright of the era known as the Belle Époque. He wrote over sixty plays with A Flea in Her Ear written in 1907 his most famous. His plays are still performed throughout the world and are considered a precursor to surrealist and absurdist theatre.

In a fresh new adaptation by Sacha Bush, this production imaginatively combines music and physical theatre with a contemporary 'joie de vivre' that will delight both fans of Feydeau and new audiences.
The play is directed by Alex Sutton (Grimeborn Festival, Arcola) and designed by Michael Leopold who designed Proof (Oct 2015) at the Tabard Theatre which was nominated for an Off West End award for Best Set Design.

Feydeau's gloriously mad farce A Flea in Her Ear at the Tabard Theatre promises an exhilaratingly funny evening of whirlwind insanity.
Click here for A Flea in Her Ear Video
In Rehearsal and Conversation