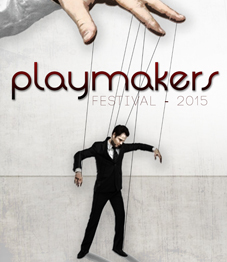 Playmakers
30 March - 4 April 2015 @ 7:30pm
Tickets £10

SUPPORTED BY



If you are having difficulties booking online or want to enquire about availability its best to drop us an email info@tabardtheatre.co.uk
Playmakers and Maison Blanc presents
PLAYMAKERS 2015
Six brand new plays, selected from almost 200 submissions, will be given their London premiere over the course of six nights.

An assortment of plays from laugh out loud funny to intensely provocative, the festival judges have picked a variety of excellent plays.

The plays range from waiting for an appeal on death row, to simply waiting for a date to arrive. The ghost of a father returns for his own funeral, while another patriarch plans for his. Some children will be married off, while others are kidnapped from nightclubs.

Come and see the best in new writing.

Mon 30 & Tue 31 March:

Fair Exchange
by Madhia Hussain
Madhia Hussainís Fair Exchange tackles some of the most contemporary realities facing British Muslim families through the eyes of British Pakistani Ayesha. Hussain is a recent graduate from London South Bank University with a degree in English and Creative Writing and this will be her scripts first major outing.

Weíll Laugh at Gilded Butterflies

A paradoxically hopeful tale of a
girl, and those around her, on death row. The play was devised by three students at the highly prestigious East 15 School of Acting and has already achieved acclaim during an initial small run at the Brighton Fringe.

Wed 1 and Thur 2 April:

Mouth Play
by Ross Dunsmore

Mouth Play, is a short piece set after the death of father and husband Hugh, as his ghost comes to terms with his sudden lack of tangibility.

Writer Ross Dunsmore has also previously acted alongside Academy Award Winning Actor Robert Duvall and Michael Keaton in A Shot at Glory.

Unfortunately due to cast illness Behind Us has had to withdraw from the festival. Trevors House will play on these dates in addition to Friday and Saturday.



Fri 3 and Sat 4 April:

Love in the Past Participle
by John Hamilton May

John Hamilton May brings his production of Love In the Past Participle to the Tabard after already having achieved recognition for other work at The Tricycle Theatre and The Soho Theatre. His beautifully written piece concerns four separate lives as they become intertwined in a poignant, stripped-back look at love... in the past participle.

Trevorís House
by Bob Rogers

Trevorís House has been written by Bob Rogers, a former newspaper editor who has also written comedy and drama for the BBC. Rogersí comedy is set in the house of Trevor, a terminally ill Welshman whose life ambition is to write a song worthy of the mighty Tom Jones, so far unsuccessfully.


The Judges
Bafta Award Winning Playwright Glenn Chandler is on the judging panel who is perhaps best known for being the driving force behind long running sleuth drama Taggart. As well as working in television Chandler has also written a series of successful plays including The Custard Boys and The Lamplighters, which he wrote and subsequently directed at the Tabard Theatre in 2013. Director Ken McClymont, The Stageís Georgia Snow and The Tabardís General Manager Simon Reilly, will join Chandler on the panel.


Tabard Theatre
2 Bath Road
London
W4 1LW
Enquiries: 0208 995 6035