Front Foot Theatre presents
PROOF
by David Auburn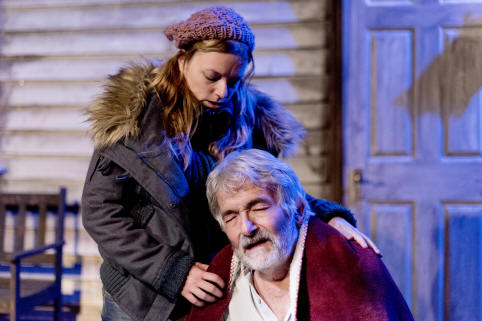 Catherine has sacrificed her education and social life to care for her brilliant but unstable father during the worst of his mental degeneration.

On the eve of her twenty-fifth birthday Catherine must deal not only with the arrival of her estranged sister, Claire, but also with the attentions of Hal, a former student of her father's who hopes to find valuable work in the 103 notebooks of Robert's.

As Catherine confronts Hal's affections and Claire's plans for her life, she struggles to solve the most perplexing problem of all: How much of her father's madness or genius will she inherit?



Proof explores the unknowability of love, the mysteries of mathematics, the elusive nature of truth and the fine line between genius and mental illness.
David Auburn is best known for Proof which won The Pulitzer Prize and 2001 Tony Award for Best Play.

Directed by Sebastien Blanc, Proof plays a limited run for four weeks at the Tabard Theatre.

The Press on Front Foot and Proof

"Brilliant and compelling performances – Everything Theatre about Front Foot Theatre's previous production The Seagull
About actress Julia Papp who has been cast as Catherine in Proof:
"Julia Papp in particular delivers a simultanneously disturbing and moving performance. – Urban Times
About Kim Hardy who is playing Hal in Proof:
"The small space makes the explosive lead performance of Kim Hardy all the more poignant. In such close quarters it is impossible not to feel real sympathy for a man whose promising life is falling apart, while his fierce outbursts leave the audience touched, feeling almost awkward to be sharing such moments of vulnerability." – Urban Times about Konstantin in The Seagull
"This beautiful play is brought to life again and thank goodness it's in the hands of this company. They certainly know what they're doing!" – Mary-Ann Cafferkey about Front Foot Theatre's previous show The Seagull
"Visceral and eye-wateringly honest" - What's on Stage about The Glasshouse directed by Sebastien Blanc
"This company raise the bar for Off West End Theatre in such a remarkable way and to say one is left speechless after this production would be an understatement." - The New Current about Mojo directed by Sebastien Blanc
"Proof demonstrates some beautiful and subtle insights about, and comparisons between, mathematical and real-life proof...A wonderful drama."
Daniel Rockmore, The Chronicle of Higher Education about the play
"Proof is...a play about scientists whose science matters less than their humanity...All four characters-whether loving, hating, encouraging or impeding one another - are intensely alive, complex, funny, human."
John Simon, New York about the play
"Proof surprises us with its aliveness...Mr. Auburn takes pleasure in knowledge...At the same time, he is unshowily fresh and humane, and he has written a lovely play."
John Heilpern, The New York Observer about the play