Two Shillings and Sixpence Presents
BLUEBIRD
by Simon Stephens
'Breathtaking...The intimacy of The Tabard makes this production an education in stage craft as well as an education in the proverbial "life". I'm so pleased I saw this. Catch this ride while you still can.'
LondonTheatre1
'This is a terrific play...a smashing cast, faultlessly directed by Amanda Root and we're lucky to have it at The Tabard.'
ChiswickW4
'Deeply poignant'
The London Economic
'Intriguing and entirely innovative'
A Younger Theatre
'Astounding'
RemoteGoat

From Simon Stephens, the award winning playwright of
The Curious Incident of the Dog in the Night-Time, comes Bluebird.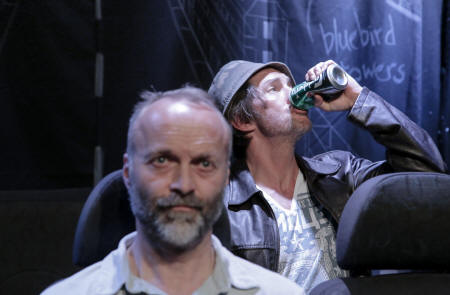 Bluebird follows Jimmy, a mini cab driver, over the course of one night in London, exploring the city's A-roads, back alleys and the lives that dwell around them. Jimmy listens as his 'fares' tell their individual stories in the back of his Nissan. He hears from a father mourning the murder of his daughter, a bouncer's memory of a violent night at his club, a disillusioned engineer of London's underground, as well as, finally, Jimmy's estranged wife Claire. Because as it turns out, Jimmy's own is the darkest story of all.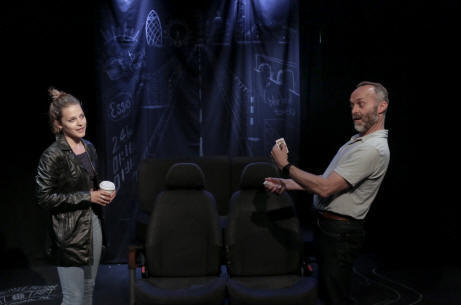 Simon Stephens' Bluebird, which premiered at the Royal Court in 1998, reveals the compassion and comedy of everyday life as Jimmy and his passengers uncover a shared loneliness that speaks louder than their words.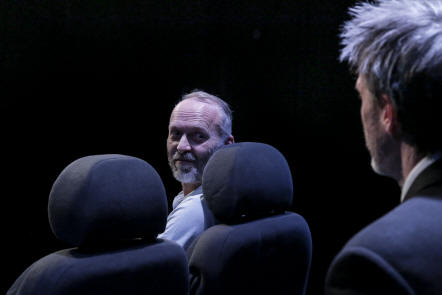 Simon Stephens is an award-winning playwright, and the Artistic Associate of the Lyric Theatre, Hammersmith. He has won the Olivier Award for Best New Play twice, once for On the Shore of the Wide World in 2005, and recently in 2013 for The Curious Incident of the Dog in the Night-Time.

Directed by Tony nominated actor Amanda Root (Persuasion, All About Me, The Iron Lady), the cast includes Mark Griffin (Gladiators, Daddy Day Care, Dr Who), Selina Giles (V for Vendetta, Until Death, Restoration), Christien Anholt (Reunion, Relic Hunter, Hamlet) and Daniel O'Meara (John Carter, Ironclad).


Click on the Link for video feature from Chiswick Buzz


Press on Simon Stephens:
'A brilliant writer of immense imagination' - Independent

Cast

Christien Anholt
Malcolm Freeman
Selina Giles
Lisa Gorgin
Mark Griffin
Jennifer Hanah
Emma Louise-Saunders
Daniel O'Meara
Nicholas Newman
Mark Griffin will understudy Malcolm Freeman, in the role of Jimmy, on 19, 22 and 28 May
Lisa Gorgin will understudy Selena Giles, in the role of Clare, on 19, 22 and 28 May
Marie-Francoise Wolff will replace Emma Louise-Saunders from the 19 May
Tom Greaves will cover Dan O'Meara from 12 - 16 May
Kate Freer is understudying

Directed by Amanda Root