SightLine Entertainment presents
THE DUKE IN DARKNESS
by Patrick Hamilton,
Revised and adapted by Orlando Wells
Liberty. Fraternity. Treachery.
To survive is to betray.

Highly recommended, an excellent production
London City Nights

Go and see this thoughtful, nail biting,
beautifully-acted, morally urgent thriller:
you won't regret it.
One Stop Arts: Editor's Choice ★★★★★

a well-crafted, elegant play
Chiswick W4

From the author of hit thrillers Rope and Gaslight comes Patrick Hamilton's The Duke In Darkness in its first London revival for 60 years.

This tense but touching play is the third of a trio of psychological thrillers written by Patrick Hamilton in an illustrious career both as a playwright and novelist (Hangover Square), which also saw him achieve Hollywood success with Rope directed by Alfred Hitchcock.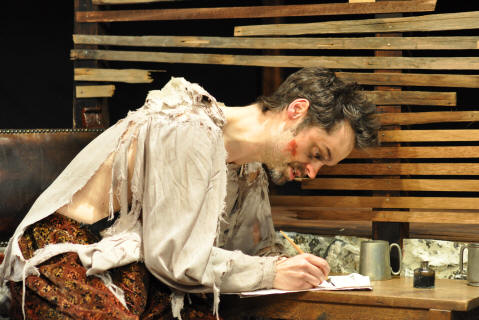 France is in the grip of long and bloody civil wars. A Duke and his servant, incarcerated for fifteen years, plot their escape and dream of freedom. But in this world of conspiracy and paranoia, where no one is quite who they seem, what will one man sacrifice for his chance of survival?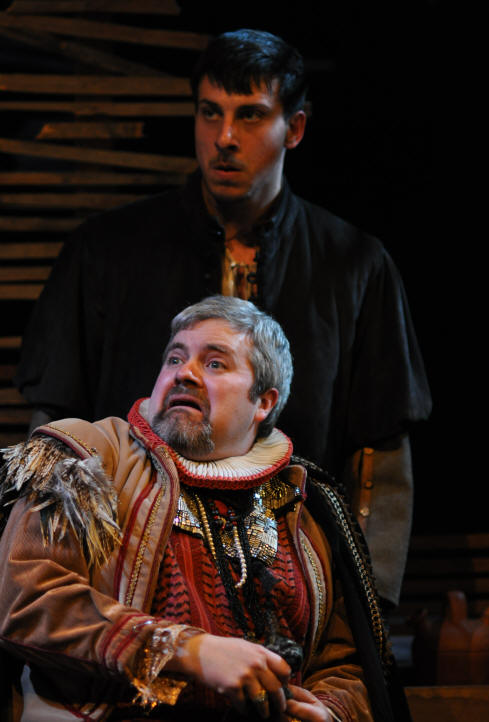 London-based playwright and actor Orlando Wells has kindly been granted permission by Samuel French and the Patrick Hamilton Estate to adapt Hamilton's rarely seen piece for modern audiences.

The Rt Hon The Earl of Shrewsbury & Talbot - Trustee of The Hamilton Settlement and nephew of the late Patrick Hamilton said,
"The Hamilton Estate are delighted that the work of Patrick Hamilton is continuing to be shown to theatre going audiences, and that this thrilling play, The Duke in Darkness, is returning to the London stage after so many years. The fact that it is coming to the Tabard Theatre in Chiswick, where Patrick lived and now has a blue plaque, makes it all the more appropriate."

The playwright and author lived at Burlington Gardens in Chiswick for 16 years. He died in 1962. Laura Thompson wrote of him in The Telegraph, "A writer whose merciless, uncompromising view of humanity is shocking even today...Hamilton is the poet of compulsion. Nobody writes it better." In 2011 English Heritage installed a prestigious Blue Plaque at his Chiswick address.
"[Hamilton] is a sort of urban Thomas Hardy: . . . he is unparalleled."- Nick Hornby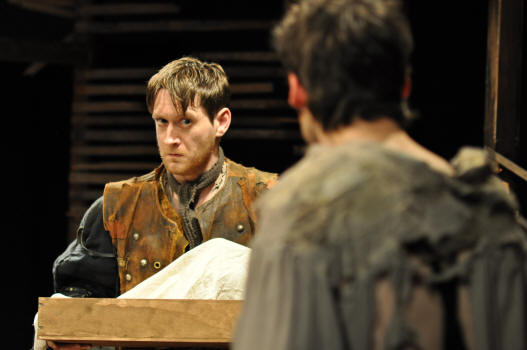 "[The Duke in Darkness] is the most unfairly underrated of all Patrick's dramatic works." - Nigel Jones
The production will be directed by Phoebe Barran, designed by Max Dorey with sound design by David McSeveney and lighting design by Nicki Brown.
The cast for the show is Michael Palmer (The Duke), Jamie Treacher (Gribaud), Sean Pogmore (D'Aublaye), Martin Miller (Duke of Larmorre), Jake Mann (Voulain) and Matt Fraser Holland (Marteau).
'The Tin Horizon', Orlando Well's first production, recently premiered to wide acclaim at Theatre 503 in London.
"
acting of the highest caliber in a play that proves Wells has a gift for gothic futurism...a name to watch… shows a wild imagination at work and displays unmistakable signs of talent
" Michael Billington, The Guardian
"
deeply sinister and queasily funny, with gripping performances… Wells's vision is the grotesque stuff of modern nightmares
" Sam Marlowe, The Times
'You may have to sneak and trick for your life. You may have to fight. Are you ready to fight, my lord?'