Boys of the Empire Productions present
The World Premiere of
THE LAMPLIGHTERS
Written and directed by the Bafta-winning
Glenn Chandler, creator of Taggart
a superior psychological study of the far-reaching effects of a miscarriage of justice. Definitely a production worth braving
the chill Spring weather for. 4 STARS - Whatsonstage.com

David Shields' set, the untidy and disgustingly dirty kitchen of the solitary drunk, provides the perfect chilly atmosphere, as does Richard Lambert's lighting and the eerie music. 4 STARS - Whatsonstage.com

Each element of this production is highly articulate and excellently executed. Put simply, this production takes a fabulous script, adds skilful direction and is finally beautifully delivered
by a committed and talented cast. Fourthwall

Itís a mark of how good a storyteller Chandler is that the final conclusion is both unexpected and yet seemingly inevitable. He places clues all along the way, but you donít realise what they are until he brings them together with the style and finesse of a master of crime writing. Public Reviews
Glenn Chandler and Tara Howard on Resonance FM 104.4 talking about the Lamplighters (Scroll to ten minutes into the show)




Three murders. Three detectives.
No solution.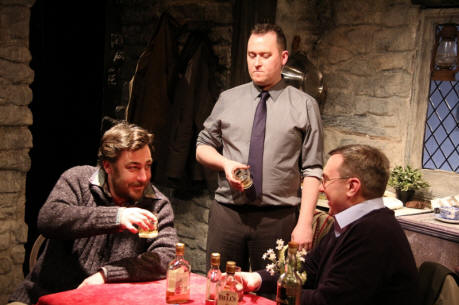 From the creator of Taggart, a murder mystery set in the remote Cumbrian hills.

Thereís been a murder - three of them in fact. Itís the tenth anniversary of a brutal triple killing on an isolated hillside. The case remains unsolved. Every year three former detectives meet up in a lonely farmhouse and journey to the scene of the crime in the hope that the murderer will reveal himself. But hair-raising events unfold when an unexpected guest comes knocking at the door. Will this be the night when justice is finally done?

A story of obsession, revenge and dark deeds, The Lamplighters will keep you guessing until the very last minute!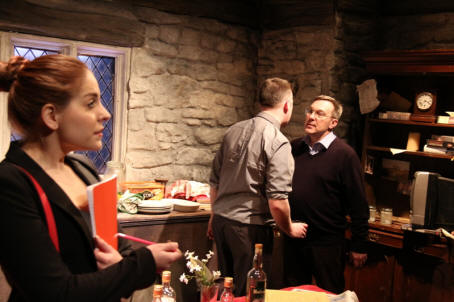 Glenn Chandler created for Scottish Television what is officially the longest running television detective series in the world. Taggart ran from 1983 to 2011, a run of twenty-eight years. He also wrote A is for Acid, about the acid-bath murderer John George Haigh, The Brides in the Bath, and The Life and Crimes of William Palmer, a study of the Victorian poisoner, all of which were produced by Yorkshire TV.